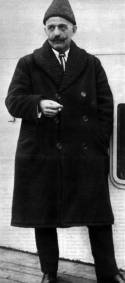 Getting in Touch with Gurdjieff

by Margaret Croyden


This little known mystic from the Caucasus was a prime mover of today's self-awareness movement. Now a Peter Brook film will introduce Americans to his 'search for the miraculous.'
On a cold, rainy afternoon last January [1979], two thousand people crowded into Lincoln Center's Avery Fisher Hall to celebrate the 101st birthday of the late G. I. Gurdjieff, the founder of a movement that—although little known—is a direct ancestor of the landmark human-potential and encounter movements of our own times. This birthday was a particularly special occasion, marked by the private showing of a new feature film, Meetings with Remarkable Men, based on Gurdjieff's life, and scheduled to open in New York on August 5.
For the aging leaders of the movement, viewing the movie was an important emotional experience. But perhaps even more important was the existence of the film itself, a $3 million enterprise conceived and directed by the British director Peter Brook and produced by Stuart Lyons. It signifies a new departure for the Gurdjieff school, whose exponents have always refrained from proselytizing and assiduously avoided publicity, virtually underground until now, the movement has at last gone public.…
[The complete text is available in the printed copy of this issue.]
~ • ~
Margaret Croyden writes frequently about the arts. Her most recent book is a memoir, In the Shadow of the Flame: Three Journeys, Continuum, 1993. She is a regular contributor to "The New York Theatre Wire" (www.nytheatre-wire.com).
Copyright © 1979 Margaret Croyden
This webpage © 2000 Gurdjieff Electronic Publishing
Featured: Fall 2000 Issue, Vol. IV (1)
Revision: October 1, 2000